Grouting
The Northeast's best grouting services for more than 20 years.
Grouting—an essential element in the erection of parking structures, high rises, and wall panel jobs—is one of our core competencies. We regularly work with precast suppliers that manufacture hollow core plank, architectural wall panels, and parking garage components on projects throughout the Northeast.
Structural Grouting
CIP Concrete is a leader in precast concrete grouting—the process of applying the grout that supports and bears the load of the floors above. This grouting is key to the structural integrity of the building.
We perform structural grouting in parking structure applications as well as column, beam, and wall panel applications. We are skilled at choosing and applying the correct type of grout as required to meet performance demands.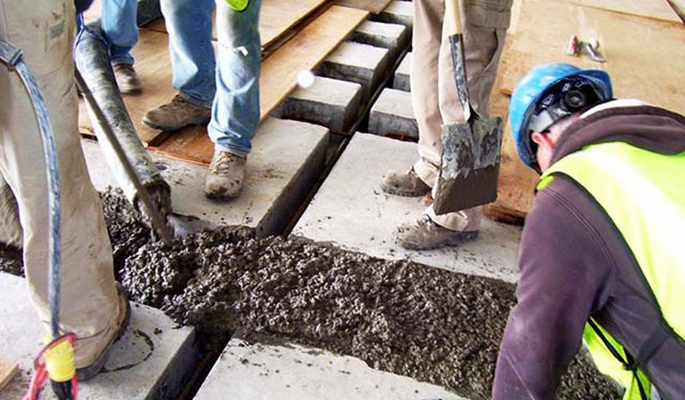 Hollow Core Plank Grouting
We're also a leader in hollow core plank grouting—the process of applying the grout between the horizontal precast planks that create the floor.
Hollow core plank is typically used in residential high rises, hotels, condominium buildings, and student dormitories. The hollow core plank method of construction allows for a quicker, condensed production schedule. CIP works closely with the erector and plank supplier to enable plank grouting to proceed floor by floor so that the building maintains maximum structural integrity, thereby enabling ongoing erection of higher floors as quickly and efficiently as possible.
If you have a structural grouting or hollow core plank job, give us a call. We'd be happy to talk with you about how we can facilitate your project and schedule.